Linda Pospisilova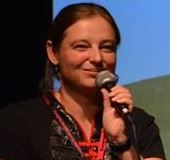 I am an English teacher at the University of Pardubice.
I teach English for Specific Purposes and English for Academic Purposes focused on Academic Speaking and Academic Writing
I am a PhD student in the field of ICT in Education at the Faculty of Education, University of West Bohemia
My dissertation project title: Digital portfolio as a tool for development of autonomous learning and English language competence in university students
Activities:
- teaching English courses for academics of the University of Pardubice
- lecturer and course guarantor at all three levels of higher education: Bachelor, Master and Doctoral
- a memeber of the jury of examinors at the Faculty of Chemical Technology - doctoral level
- LMS Moodle administrator and ePortfolio system Mahara administrator
- involved in the project "iPad at school"
- involved in piloting Digital Badges in education and related research.
- experience with project proposals and project management - key activity eLearning in the ESF project UNICOM 2012 -2014

Personal motto:
'The person who says something is impossible should not interrupt the person who is doing it.'
Chinese proverb
Details
Employment History
English for Chemistry
Mahara ePortfolio
English for Health Studies
English for Business
eLearning co-ordinator
eLearning Course creator
Tutor
Address: Studentská 95
Moodle and Mahara ePortfolio administrator and trainer
University Pardubice
2015 - now
eLearning management eLearning administration implementation trainings
English teacher
VOŠ optická Pardubice
2012 - now
company courses - Business English
Address: Vltavská 24, Praha 5
intensive company courses
Address: Praha
teaching 5th to 9th graders Dalton Plan implementation and promotion
Address: Pardubice, Polabiny I.
Details
Academic skills
ESP - English for Chemistry, English for Health Studies, English for Graphic Arts
Academic Writing
eLearning - LMS Moodle, Mahara, web 2.0
teaching English for Scientists
Testing Spoken English - CEFR
Certified TOEIC Examiner
2014/15 iPad in education (project of 24U)
Project management:
2012 - 2014 Inovace integrované koncepce jazykového vzdělávání k zajištění kvality, podpory excelence a internacionalizace (UNICOM) (spoluřešitel) - vedoucí klíčové aktivity pro eLearning
2011 - FRVŠ projekt Interaktivní terminologická databanka (spoluřešitel)
2009 - FRVŠ projekt E-learningový kurz rozvíjející komunikativní dovednosti v anglickém jazyce pro zdravotnická studia (spoluřešitel)
2007 FRVŠ projekt Tvorba a realizace elektronické formy on-line kurzu - řešitel
Details
Interests
Basically all, but predominantly: English, Computers, eLearning, Modern technologies, Travelling, Photography, Geocaching, Reading
Details